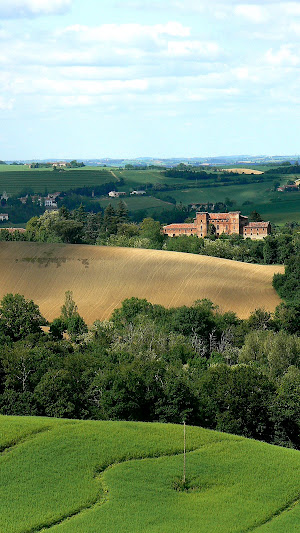 The Chateau de Fajac la Relenque became part of our family's story in 1989 when our mother Geneviève Leroy fell in love with it. There was no water or electricity, and as for heating – that hardly seemed possible! She took her 3 children along (aged 11, 9 and 6 months) on the adventure and renovated the place bit by bit, and it became our family home.
A few hundred thousand bricks later, we are taking the adventure further and have decided to open up the place to guests interested in making the most of this unique place.
This magnificent building that dates back to 1550 is conveniently located at the intersection of the Aude, Haute-Garonne and Ariège regions of France, and is the perfect place to host all your events, both indoors and outdoors, so you can welcome your guests in comfort and style.
Enchanted by the spectacular setting, you'll be delighted by the Orangery– a place that is both welcoming and spacious. Your guests will be delighted with it, as well as with the  stunning views over the chateau grounds. The dining room seats around a hundred guests, or even more than that if you arrange for a  stretch tentin the garden.
The residence has 6 rooms, including two suites. The Loft in the West wing will accommodate up to eight people, and the dormitory in the East wing will accommodate around ten people.
You'll be delighted by the character of the place, with its orange-hued brickwork worn down by the centuries.
The property is surrounded by fields as far as the eye can see and is located just 15 minutes from the Canal du Midi, widely acclaimed for its fantastic bike trails and boating trips.
The Chateau de Fajac la Relenque provides a truly authentic chateau experience in an atmosphere of rural elegance, combining the pleasures of a beautifully renovated home with stunning expansive views that make you feel peaceful and relaxed.
***
Renovations between 2012 and 2015: